We engage and collaborate with governments, corporates, industry associations, academic institutions, and think tanks to guide and accelerate the transition to a Circular Economy (CE). Guidance and support is provided for the design of policies and preparation of strategic action plans and build roadmaps on CE with appropriate metrics for monitoring, tracking, and reporting circularity. We were engaged by NITI Aayog to prepare strategic action plan on Resource Efficiency (RE) towards CE through interactions with 11 line ministries.
Our team has vast experience and expertise in conducting comprehensive Resource Efficient Cleaner Production (RECP) Opportunity Assessments in nearly 1000 enterprises in South and Central Asia in various industry sectors. The approach involves developing a baseline to identify potential for resource efficiency and waste reduction, with priority on low/no cost interventions. Actions also include capacity building, technology matchmaking for Energy Efficiency (EE), emission reduction and guidance on transitioning to renewable energy.
We specializes in the conduct of Life Cycle Assessments (LCA) to develop circular, low carbon and sustainable product and packaging design. We assist in formulating criteria and strategies for circular sourcing and sustainable procurement. We facilitate in communicating circular, low carbon, and sustainable products and services and guide organizations in implementation of Extended Producer Responsibility (EPR).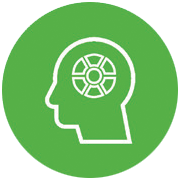 Designing circular economy action plans, roadmaps and strategies for corporates, national and sub-national governments
Identifying opportunities for mainstreaming circularity in businesses
Fostering Innovation and Accelerating Circular Business Models
Providing technical guidance on designing sustainable models for Common Circular Infrastructure to manage different waste streams (MSW, E-waste, Plastic Waste)
Facilitating design and implementation of Extended Producer Responsibility (EPR) programs
Developing Circularity Metrics
Opportunity Assessment with Cost-Benefit Analyses for Resource Efficient Cleaner Production (RECP)
Energy Audit
Water Audit
Waste Audit
Chemical Audit
Material Flow Analysis
Life Cycle Assessment (LCA) (for product and packaging) for low carbon, circular and sustainable designs
Some of our Esteemed Clients
NITI Aayog
Indian Railways
Ministry of Environment, Forests and Climate Change, Government of India
The World Bank
United Nations Institute for Training and Research (UNITAR)
United Nations Environment Programme (UNEP)
Deutsche Gesellschaft für Internationale Zusammenarbeit (GIZ) GmbH
Circulate Capital
Circularity & Sustainability
Talk delivered at Madras Chamber of Commerce
EMC prepared the National Action Plan on Circular Economy for India for NITI Aayog
Team EMC led by Dr Prasad Modak prepared chapters for UNEP in the Green Economy Report, Global and Asia Waste Management Outlooks
EMC prepared Integrated Solid Waste Management Plan (ISWM) for Pune city in India
Dr Prasad Modak is leading a study on the Preparation of framework for the Establishment Centre(s) of Excellence (CoE) on Circularity in India for UNITAR. The framework will suggest a business plan, suitable governance and strategies for financial sustainability for the CoE.
EMC has conducted capacity building programs on Sustainable Public Procurement for the Indian Railways
EMC developed a training module on Waste Management and Circular Economy Solutions and conducted a Pilot Training for the Indian Railways.
EMC has worked with multiple FMCG companies on sustainable design and packaging including through conduct of life cycle assessments
Diagnosing and Mainstreaming Circularity in Businesses
Designing circular economy strategies for fostering decarbonization
Fostering Innovation and Accelerating Circular Business Models
Conducting ESG due diligences for businesses fostering circularity and for supply chain supporting or linked to the circular business
Capacity Building and Awareness Generation on Circular Economy