At EMC, we consider internship to be a key opportunity for learning in life, a pathway between now and next for the talented students.  EMC's Internship program is designed to provide experiential learning to graduates/post graduate students or those who are looking to get hands on experience before their next academic program in the field of environmental management. The period of internship is for a minimum period of 2 months and maximum of 6 months and runs all through the year. Interns have the choice to work full time at EMC's office in Mumbai or opt for an 'e-internship' and are mentored by EMC professionals. The 'e-internship' is open to both Indian and international students.
The interns are expected to get involved and provide support to ongoing projects at EMC, conduct research on newer/emerging topics and support the base work in preparation for anticipatory assignments under the various research and consulting verticals of EMC.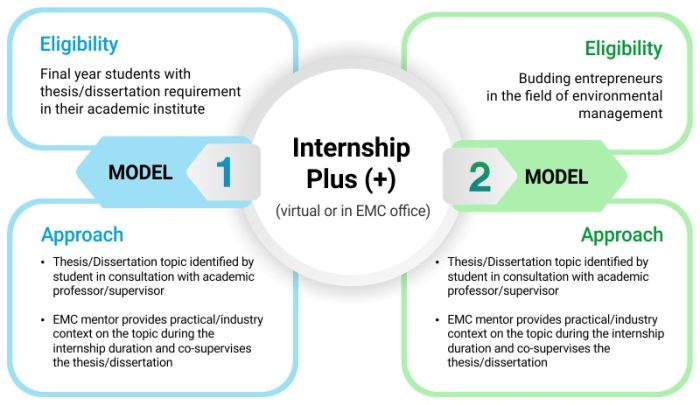 Getting an internship at EMC is very competitive. At EMC 200+ applications are received each year. Interested interns have to submit their CV citing two references through the online portal . Once the CV is shortlisted, interns are asked to submit a Statement of Purpose and samples of recently written output. An interview is conducted as a final round for selecting an intern.
For the interns who work from EMC office in Mumbai, we offer a modest stipend depending on qualifications and experience of the intern. The stipend provided to the intern is only to help meet the subsistence and a token of appreciation. It does not imply any honorarium or salary. We do not provide accommodation facility to the intern during an internship. For the 'e-internship, there will be no stipend provided to the e-interns.
Institutional MoUs for Academic Cooperation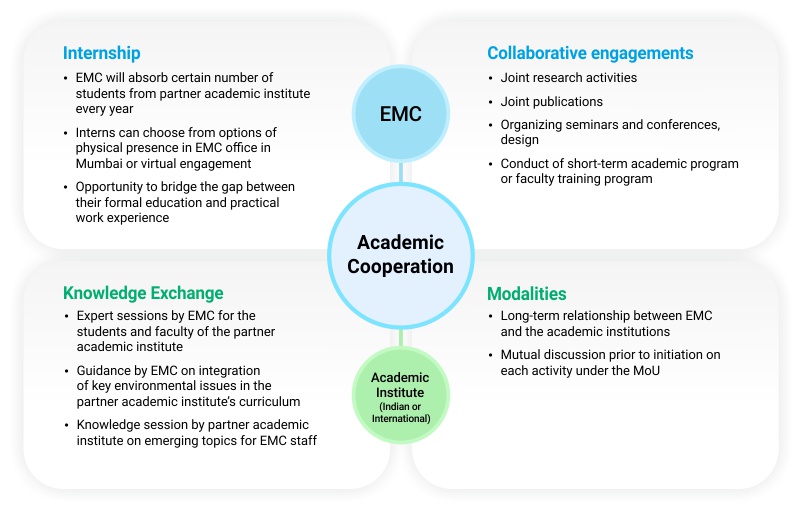 Feedback from our interns
I graduated with a degree in Economics in 2021 from Symbiosis School of Economics. I interned with EMC for two months, and it has been a great learning experience! I'm going to join EMC as a full-time employee - Sharvari Lowalekar
I have graduated from Symbiosis School of Economics with BSc Economics Honours in 2021. I completed my 2 month internship with EMC in April'2022 and it was a truly enriching experience. - Divya Shastry
I recently graduated as an Environmental Engineer. I've worked with EMC for a period of 4 months now. I joined as an intern and have also worked as a Research Assistant. I've had a great time exploring the field in various sectors. - Kriti Shah
I am doing a Masters in Urban Planning from CEPT University Ahmedabad. I joined EMC as an intern from 30th May 2020 for 2 months and am really excited to work and explore more fields. - Rajat Yadav
I am a Fourth Year Undergraduate student at the Department of Environmental Science and Engineering, IIT Bombay. I have a keen interest in the field of environment, and I am willing to learn new and contemporary things in this field with high enthusiasm. I joined EMC as an intern from 9th May 2022 for 2 months. It was really great. - Priyanshu Meshram
I completed my Bachelors in Chemical Engineering with a minor in Pollution Control Engg ( which made me more inclined towards the environmental field) from Manipal Institute of Technology. It's been 4 months since I have worked as an intern with EMC and I am really grateful about all the knowledge I have gained here. - Maureen James